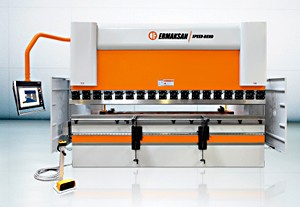 Press brake Ermaksan
In April, we installed a new press brake Ermaksan Speed Bend 3000 175t. The company Ermaksan is one of the leading manufacturers of industrial machinery, such as press brakes, plasma burners, plasma cutters and fiber lasers. The company was established in 1965 and is constantly growing, marketing new interesting innovations and ensuring consistent high quality products.
Its main parameters are: maximum cutting length up to 3000 mm; maximum pressure of 175t; distance between columns up to 2600 mm; operating speed up to 12 mm/s.